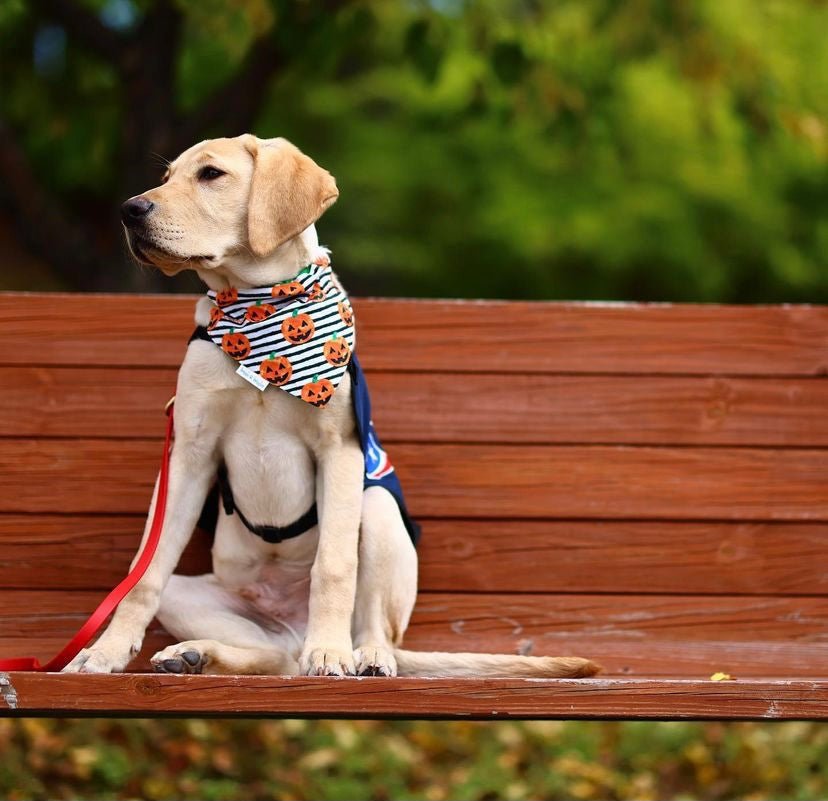 Buying the Right Dog Bandana Style for Your Dog
There are many different bandana styles out there for your dog. In this article we'll review the different styles of dog bandanas, how to properly size your dog bandana and how to find the right style dog bandana for your dog.
Types of Dog Bandana Styles
There are three basic dog bandana styles.
Traditional Dog Bandana
Snap Dog Bandana
Over-Collar Dog Bandana
The traditional dog bandana is just a square piece of fabric folded to make a triangle, You then tie this around your dog's neck. This is a low cost DIY dog bandana. But often these get twisted and tangled and are easy for your dog to get off.
Another type is the snap dog bandana, usually with small snaps, Velcro or a plastic connector similar to what you find on a dog collar. These are handy to easily put on and take off your dog. But the mechanics on these are only good for so long before they wear out or break.
That's why we recommend (and make) over the collar dog bandanas. Collar bandanas for dogs slip on over the collar using a sleeve sewn right into the fabric. A bandana dog collar then becomes part of the collar itself. It won't fall off, and because there are no plastic or metal pieces, it won't break.
Once you've selected a dog bandana type, you need to consider whether you want a reversible or single sided dog bandana.
All Briggs 'n' Wiggles over collar dog bandanas are double sided, reversible to fit your mood and your preference. When you pick a reversible dog bandana, you get twice the value for your purchase. Consider that value when you are shopping online for dog bandanas. Some companies charge the same price regardless of bandana size, and offer one-sided prints.
How to Pick the Right Size for Dog Bandana
Speaking of bandana size for your dog, that brings us to our next topic.
Once you've picked the type of dog bandana for your pooch, you'll need to pick the right size. Many traditional dog bandanas are one size fits none. You'll end up with a bandana that's too big or too small for your pooch.
Briggs 'n' Wiggles solves this problem by creating 5 sizes of reversible over the collar dog bandanas, from extra extra small to large. I have based my sizes on the dogs weight. You do not want the bandana to go all the way around the pet's neck (it will scrunch up and bother your pet). The Bandana will sit on the pet's shoulder. If your dog is fluffy, I suggest going up one size! 
XXS 3-12 lbs Chihuahua, Yorkie, Dachshund, Pomeranian, most toy breeds and this size will even fit a cat
XS 13-25 lbs Maltese, Shih Tzu, Boston Terrier, Pug, French Bull Dog
SMALL 26-45 lbs. Cocker Spaniel, Border Collie, Mini Golden doodle, Corgi (female)
MEDIUM 46 - 95 lbs. Boxer, Golden Retriever, Labrador, Vizsla, Pit Bull, Golden doodle, Corgi (Male)
LARGE 95+ lbs. Great Dane, Large German Shepherd, Great Pyrenees
How to Find the Right Dog Bandana for Your Dog
Now that you know about the styles of bandana for your dog, and how to size one properly, it's time to shop for a bandana.
The right bandana for your dog depends on how they will wear it. Is this a special occasion bandana, or is your dog the pup-around-town, always dressed in their dapper attire? Do you want something reversible? Do you want something washable? Look at the details of the product before you buy it to make sure it's high quality and hopefully hand made in the USA!
Of course, we hope you will shop on our online store, at our location at Mala Market on West Gray in Houston, or at any of the many events and markets that we attend.
We hope this helps you find the right dog bandana style and size for your dog!
Thank you all for supporting my small business!