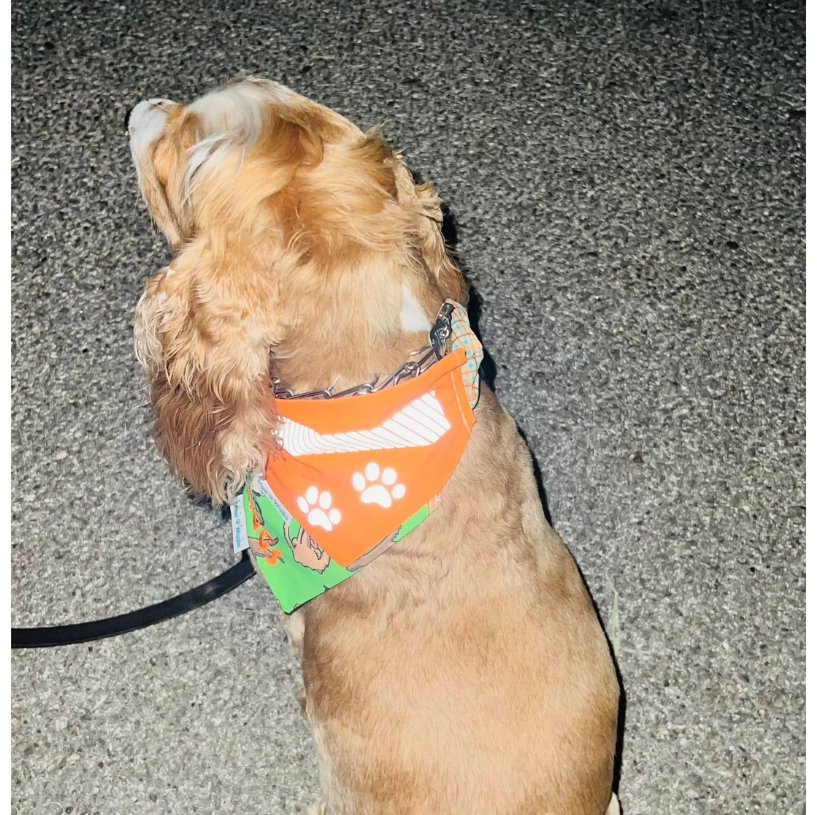 It's finally starting to cool off, ok so it's just not boiling hot anymore!  But it is time for a wardrobe change as the weather cools.  Briggs 'n' Wiggles has some amazing fabrics with all the amazing colors and events that fall brings …. think baseball playoffs, football, Halloween, Thanksgiving, Fall Colors, soooo many things! We now have options for the style of bandana: reversible bandanas that go on your pet's collar or an add-on scrunchie option that just slips over your pet's head.  
Even though the weather is cooling off, we still must consider our dogs safety in a different way… walking your dog when it gets dark out. We NOW have our FIRST DOG SAFETY reflective bandana that is made with an add-on scrunchie so you can easily put it on your dog with ease. The reflective materials on the bandana enhance your dog's visibility during dawn, dusk, or nighttime walks. This reduces the risk of accidents involving vehicles, cyclists, or pedestrians. 
Additional Benefits of our Safety Reflective Dog Bandana:
When walking near roads or in areas with traffic, the reflective bandana ensures that drivers and others can spot your dog from a distance. Giving them more time to react and avoid potential collisions. We offer these in three colors: neon green, neon orange and neon pink. Look at our website for more details on these amazing new products.
Whether you're hiking, camping or simply exploring the outdoors, the reflective bandana helps locate your dog in the wilderness, ensuring they stay close and safe in challenging terrain.
In case your dog gets lost or wanders off, the reflective bandana makes them easier to locate, especially for search and rescue teams or concerned neighbors.
Reflective dog bandanas are versatile and can be worn year-round, providing safety benefits in various weather conditions, including rain, fog, or snow.
Many reflective bandanas come in stylish designs, combining safety with a fashionable accessory that compliments your dog's personality and enhances their overall appearance.
A reflective dog bandana is a practical and stylish way to prioritize your pet's safety during outdoor activities and low light conditions, reducing their chances of accidents and ensuring your dog can be seen by others. You can shop these bandanas on our Instagram @briggsnwiggles3 or on our website, www.briggsnwiggles.com. We offer shipping within the US or local pick up at June & Co at 1229 Heights Blvd or Mala Market 1302 West Gray (these options will be offered to you during the check out process).