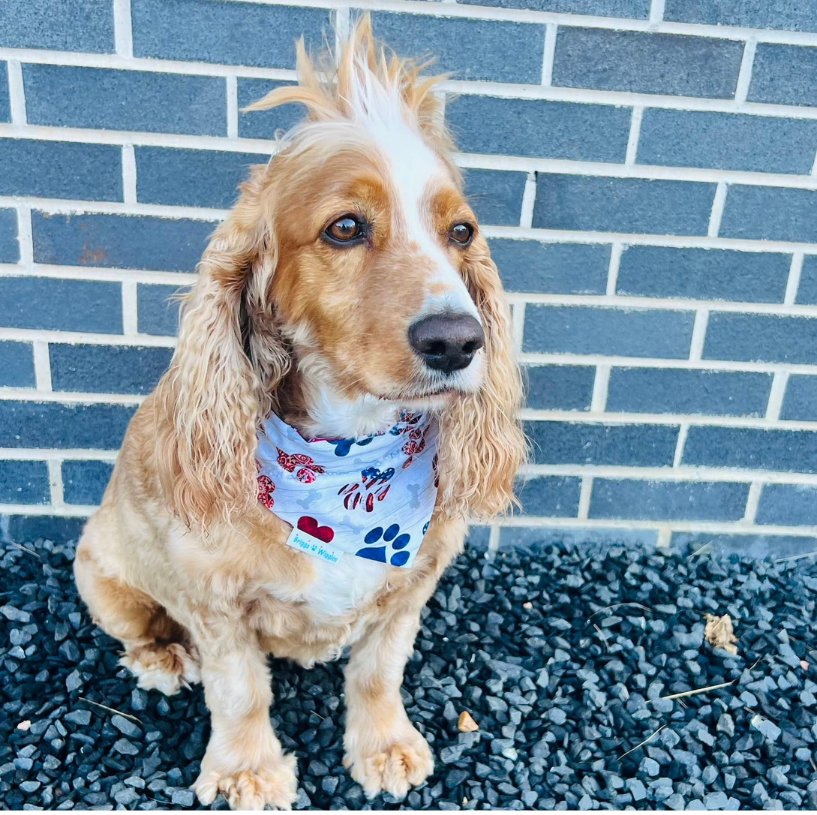 It's time to celebrate the Fourth of July!  Briggs n wiggles has lots of options to get your pet properly outfitted to celebrate in style.  We can get your pet looking pretty awesome in a reversible bandana that goes on a collar or over the head with an add on scrunchie style;  to bow ties for your handsome boys or hairbows for your sassy girls.  We are constantly adding new patterns so check our website often to keep up with the latest style and newest products. 
Celebrating on the Fourth of July can be a great time for us, but can adversely affect our pets.  A lot of pets are not huge fans of fireworks.  We need to remember that an animals hearing is much more sensitive than ours, so all of the loud booms is even louder to our pets.  If you have a pet that is not a fan, there are a few ways you can help them.  Find a "safe place" for them to retreat to, usually somewhere that is mostly enclosed and covered.  A kennel is a great idea, especially if you can put a cover on it.  Small enclosed spaces help pets feel more comfortable.  There are also "thunder coats" that work well for fireworks also. 
Now that we have our pets dressed to impress and a safe spot for them ready for the evening, it's time to head out for a day of fun!  Remember to check the ground to see how hot it is and if your pet needs protection.  If it's going to be a hot day, bring along paw protection.  The next thing we need to remember is bring along some water to make sure that our pets stay hydrated.  Heat stroke is a real problem this time of year, and can happen quickly.  Keeping to the shade and making sure they have lots of water will help to lower the risks of heat stroke. 
If you are having a few adult beverages and want to include your pet, you can but they need their own special brand of beer.  Good Dog Beer comes in some great flavors and is a safe treat for your pet.