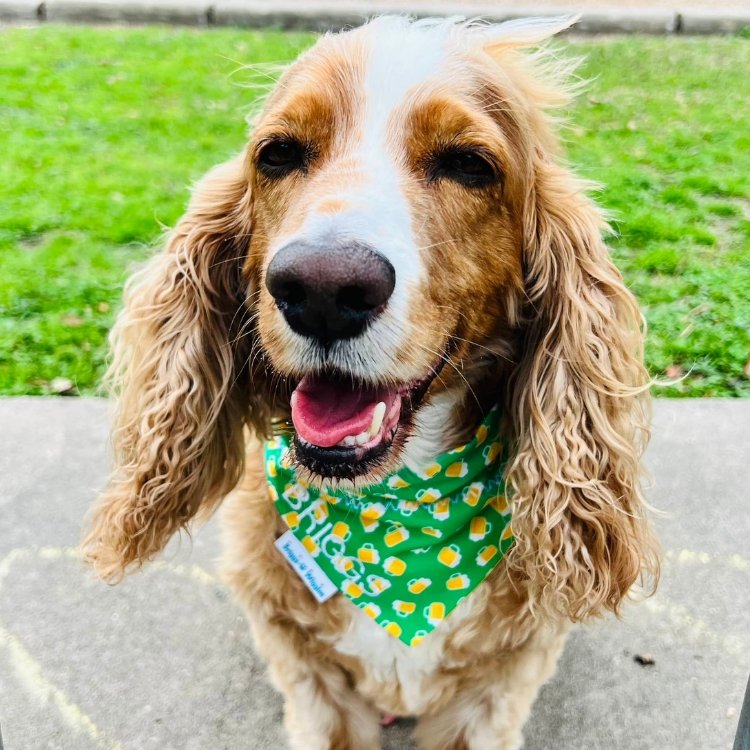 Safety Tips for you and your Pup with St. Patty's Day coming soon.
St. Patrick's Day is on the way 
We all love a good fun holiday, right???  Well, St. Patrick's Day is one of the best especially if your Irish, but we all love to participate!  Better get your green ready, oh and don't forget your pet's green too.  Check out Briggs 'n' Wiggles New St. Patrick's Day Collection.  Have fun with it and get a little wild with it, get your pet ready with the perfect bandana!
Talking about getting a little wild, we need to show some caution about what our pups get into on this green day.  As fun as it seems to let your pet try your green beer or other green drinks, this can really harm them.  One kind of "green drink" you can give your pet is of the stuffed variety.  Check out our toy selection, we have some great stuffed "drinks" that are safe for our furry friends or even our new Dog Beer.  You can also find some fun green foods that are safe for them to eat to share in all of your fun.  They can have cucumbers, green beans, and zucchini.  Some foods that are on the Do Not Give list are grapes and avocadoes, especially grapes.  If your pet eats any grapes they need to be seen immediately by a veterinarian, they are very toxic! 
The weather is warming and summer is getting close!  We need to start getting back out and getting our pets back into shape after Winter.  Start trying to take more walks or increasing the time you are out on walks with your pets.  They need time to get into better shape just like we do.  Getting them out and more active will help them shed their winter weight and increase their endurance for all of the summer fun to come.  Get out and enjoy the beautiful weather!